Musical performances and activities that are not on the Guild Calendar but which may be of interest to our membership and friends.
Please send details of future events to the webmaster: randallkrum@mail.com.
---
View the Year Ahead Schedule for the Central Florida AGO Chapter
---
LESSONS & CAROLS OF ADVENT & CHRISTMAS

TOMORROW
FRIDAY, DECEMBER 13
AT 7:30PM
St. James Cathedral Church
 215 N. Orange Avenue, Orlando, FL 32801
________________________________

The St. Cecilia Society continues it's Friday Night Concert Series with the diocesan favorite – Lessons & Carols of Advent & Christmas.

The concert is TOMORROW Friday, December 13 at 7:30pm at St. James Cathedral and will be performed by our very own St. James Cathedral Choir and the Orlando Diocese Orchestra, conducted by Adam J. Brakel

Performing many of your seasonal favorites from ages past, The St. James Choir and Diocesan Orchestra has some surprise offerings to add to the wonder of this time-treasured musical event.

While Lessons & Carols is a free concert, a freewill offering will be very much appreciated and helps support The St. Cecilia Society's exciting Friday Night Concert Series line-up for the remainder of its 2019-2020 season.

So bring your friends, family, co-workers and/or that special someone for a musical evening sure to warm your heart and enhance your Advent & Christmas seasons while supporting the best culture and musical art that the Orlando Diocese has to offer.  Please feel free to forward this email around and indicate that you're "going" on our Facebook EVENT Page
---
View the schedule of events in St. Luke's Cathedral Concert Series.
---
Concerts and Musical Events at the Basilica of the National Shrine of Mary, Queen of the Universe, 8300 Vineland Avenue, Orlando, Florida 32821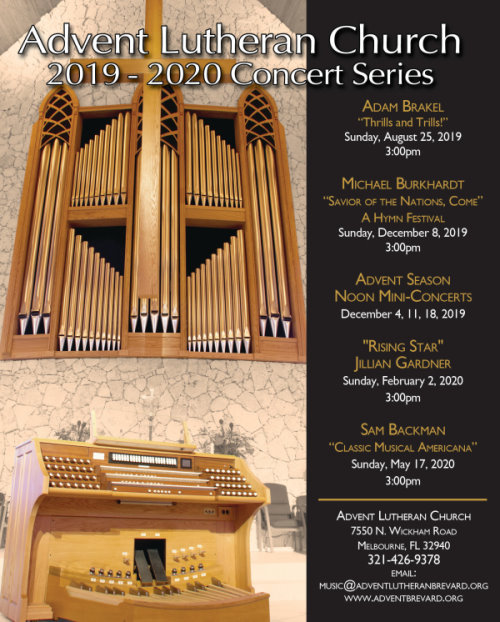 ---