Posted 2/11/19
Tammy Buwalda has supplied the following information regarding the instrument pictured below. She describes it as follows: a Wurlitzer organ, model 4700, in good, working condition that we would like to sell or donate. If interested, please contact me at the following email or phone number: tbuwalda@embarqmail.com or cell phone: #407-758-0433. View the owner's manual with stoplist and technical specifications. (Note: This is on an external site.)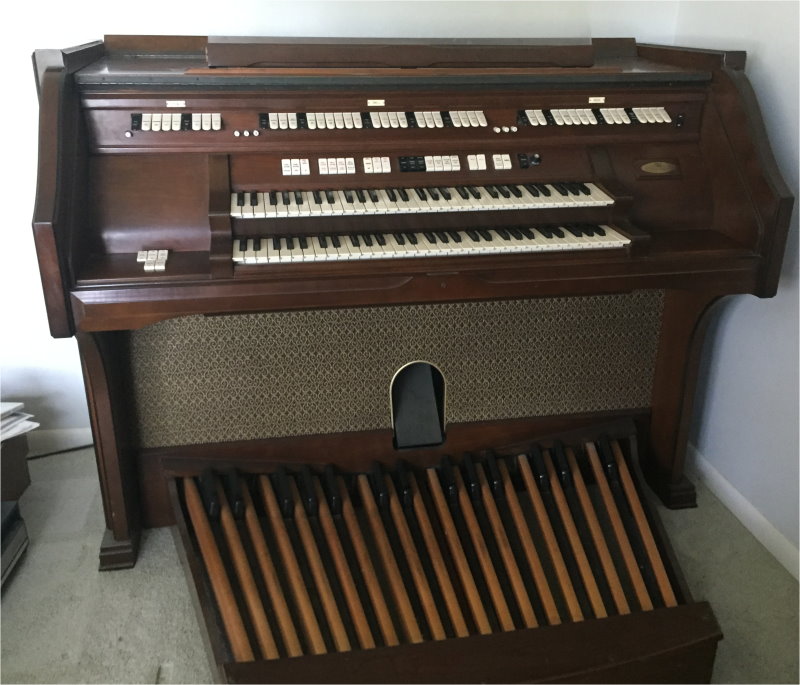 ---
Posted 2/4/19
Beautiful Steinway and Brothers 1982 Walnut Grand Piano Model L 5'10" A plus
It is in unbelievably beautiful condition.
It looks like it was just brought home from the showroom.
Bought in 1982 and was never moved.
Serviced each and every year.
Recently taken apart to examine and is in excellent condition.
Original Owner is a lover and Teacher of pianos and taught many years ago.
Serial #477533
Underneath it is stamped L799.
2011 Replacement value was $75,400.
2018 Replacement value is $82,000.
Includes all original paperwork and manual.
Felt cover inside when not being used.
A bonus is a Dampp-Chaser.
Located in Brandon, FL 33511
$19,900
Call the owner, Olga Finch at 813-685-1190 Charter Member of Mid-State Music Teachers Association
ArtOlga@verizon.net
---
Posted 11/8/2018
A Lutheran Church in Jacksonville is closing, and the building has been purchased by a Baptist Congregation. The baptistry will be constructed where the pipe organ is at present.

Because the Lutheran congregation is leaving the building soon, the pipe organ is free to any church. It is a Casavant 2 manual, 27 rank instrument which was built new in the 1970's.

For further information please use the contact information below.

William Longmore & Associates
7201 East Road
Lakeland, FL 33809
863-858-7374
wlongmore@earthlink.com
---
Posted 7/24/2018
The pipe organ installation at Suntree United Methodist Church, (7400 N Wickham Rd, Melbourne, FL 32940) is now complete. We need to find one or more parties interested in taking the remaining ranks of pipes, console, offset chests and miscellaneous parts. Thanks to so many generous souls, we passed the point of needing to sell anything and simply want to meet with the interested parties as soon as possible, so if you would share this information, we would greatly appreciate it! We will send a complete list on request.

Please contact Tom Taylor at 847-309-5338 for additional information
---
Posted 3/27/2018
Our Dean recently received the following message.
"I, Martha Penne, am the trustee of my brother's estate, who recently passed away. He had a Roland C-330 organ he purchased about 4 years ago. Do you know anyone that would be interested in purchasing this organ for $3,000? He paid $13,800 at the time. It has hardly been used and well maintained, as he used it to practice his music at home. Additionally, he has a huge collection of organ music books that we need to find a good home for. They include church music, Bach, Mozart, etc.
Martha Penne
407-222-8015
Email: jmpenne@icloud.com
Photos of the Roland C-330 in its present installation are shown below. Please contact Martha Penne for further information of to discuss the possibility for purchase.
Please view the following YouTube videos for additional information.
https://www.youtube.com/watch?v=I5wjtOzyjAM
https://www.youtube.com/watch?v=Oy0di6j9JOg

The second link shows Hector Olivera performing the Bach, Short Prelude and Fugue in C Major, BWV 553 on the Roland C-330.
---
A friend of the CFAGO has written the following:

I have a beautiful Lowrey Symphonic Theatre Organ which is from way back that needs a good home. I am giving it away. My husband was a musician and played it daily for years and years. Does anyone have any ideas? Maybe there is a church or an organist who could enjoy it in his or her home? For additional information, please phone the present owner at (407) 351-9289 (Orlando in the Dr. Phillips area).

Posted 10/30/17 - 3/30/18*
---
Posted 11/15/17 - 4/15/2018
On November 9, 2017, Bob Nichols [bob@associated.net] wrote the following: "I have a neighbor being assigned to a nursing home. Her husband restored organs, and they have a Robert Morton Theatre Organ unassembled which is looking for a home - NO CHARGE - so they can sell their house Please pass this to interested parties - in the Dr. Philips area of Orlando"
---
* Postings will remain in place for six months, unless the webmaster is notified that the item is no longer available prior to the end of the posting period.
After the passage of six months the item will be removed, unless the webmaster is asked to continue the notice for another six month period.