Job Placement
| | |
| --- | --- |
| | Organizations with Position Openings may post announcements on our website. Please submit this form to our Placement Director, Dr. Terry Yount, Email: tyount@sachapel.com |
Posted 5/13/19
The First Church of Christ, Scientist, in Ocala is seeking a permanent organist for Sunday and Wednesday services.
Services include prelude, postlude, offertory and hymn music and accompanying a vocal soloist once a week on Sundays.
We pay competitively.
Our instrument is a Roland Classic Series C-380 two-manual, stoptab church organ manufactured in Oregon.
With Roland's trademark ambiance system, it comes with Midi and USB capabilities to record, store and playback registration sets and performances.
Contact: John Yenne Music Committee Co-Chair First Church of Christ, Scientist Ocala FL (Email: jyenne@gmail.com)
---
Posted 4/13/19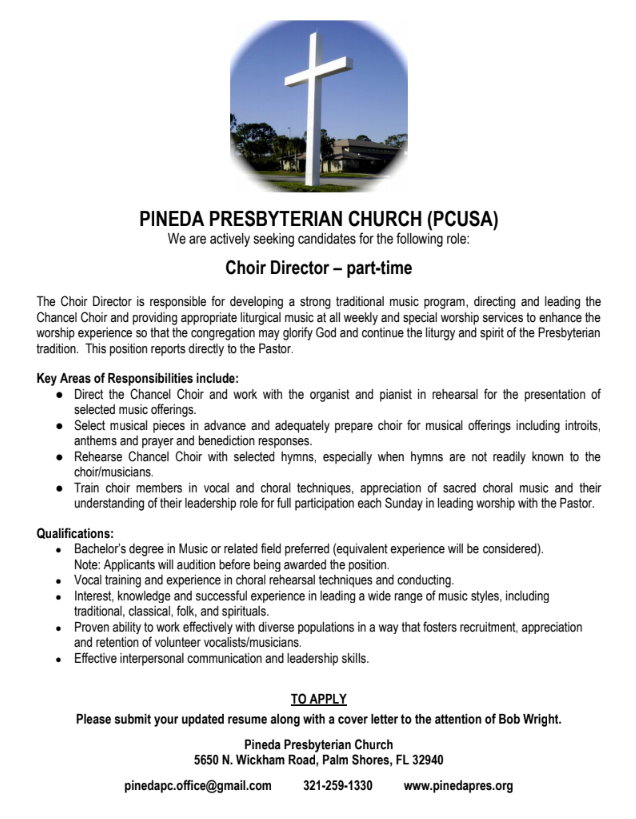 ---
Posted 4/9/19
Community United Methodist Church
Address: 309 College Avenue
City: Fruitland Park, FL 34731
Website: http://Communityumc.church

Position: Organist, Part time


Position Description: Community UMC is a large congregation (average 800) on the edge of Leesburg and The Villages. We have two traditional worship services at 8am and 11am each Sunday, with choir choir warmups starting 30 minutes before each service. During worship, the organist trades off preludes and postludes with our pianist, and regularly accompanies the 60 voice worship choir on their weekly anthem as well as congregational hymns and other special music as needed in worship. Rehearsals are Wednesday nights from 7:30-9pm. There are a few other special services throughout the year around Christmas and Easter that involve the organist; and there are some opportunities for weddings and funerals for additional honorariums. We have a four manual Allen organ installed in the sanctuary.

Salary is negotiable. Please send resume with salary requirements and reference to Rev. Debbie Allen at employment.cumc@gmail.com
---
Posted 4/1/19
St. Philip Lutheran Church, Mt. Dora, Florida
Organist/Choir Director
Setting: St. Philip is a mission-minded congregation of the Evangelical Lutheran Church in America. We recognize dynamic worship is the heartbeat of congregational life and mission and currently have one Sunday Service using the Evangelical Lutheran Worship (ELW) book/hymnal.
General Information:
Sundays 8:45am - 11:00am availability (Service time is 9:30am - 10:30am)
Organist/ Choir Director Part-time Position Description:
Play liturgy, hymns and music for 9:30am weekly Sunday ELW Liturgy
Conduct weekly choir rehearsal and direct choir in weekly worship anthem/worship liturgy
Compensation and Terms
Contacts
The Rev. Dr. Johan Bergh
Mt. Dora FL 32757
352-383-5402
---
Posted 1/8/2019
Description: Part Time Organist / Minister of Music
Name of Church: Azalea Park United Methodist Church
Address: 50 Willow Drive
City: Orlando Fl 32825
Phone: 407-277-3472
Azalea Park United Methodist Church, an open and affirming congregation, seeks applicants for the position of Organist / Minister of Music. All applicants should send a cover letter, resume, and contact information for three references as well as the date on which you will be available to start. The letter should also describe your relevant experience in relation to the position for which you are applying.
Materials may be sent electronically to SPR - Minister of Music Search to Pastor Andrew Miller andrewm465@gmail.com - or mailed to
Position will remain open until filled.
The successful candidate will have experience as a church musician, and knowledge of music in the Protestant, preferably the UMC tradition. Other required skills include the ability to play both organ and piano, accompany choral groups, minimal accompaniment of praise band and to provide music for weekly services, including preludes, postludes, offertories, choral anthems, hymns, and any other incidental music. Position reports to SPR committee and Pastor (committee service not required).
Part Time Organist / Minister of Music Duties
Play for Sunday services
Services 11:00am to 12:00pm Sundays
Rehearsal 10:30am Sundays & Wednesdays 7pm to 8pm (Flexible)
Play for all special services (Christmas Eve, Ash Wednesday, Maundy Thursday, Veteran's Day, Memorial Day, Palm Sunday, etc)
Choir Consists of 5-7 individuals
2 Manual Large Rodgers Organ
Kawaii Grand Piano
6 octave Handbells / Chimes
Direct Bell Choir for seasonal playing (Christmas, Memorial, Veterans, Easter)
Responsibility to play or arrange for performer(s) for weddings/funerals (compensation additional)
---
Posting updated 9/12/18
Queen of Peace Catholic Church (Website - http://www.ocalaqueenofpeace.com)
Address: 6455 SW State Road 200,
City: Ocala, FL 34476
Position: Part-time Organist and choir director
Two Masses on Sunday morning (9:30am and 11:30am)

Saturday Mass (4:00pm)

Choir rehearsal Thursday evening (6:30-8:30pm)

Funerals and some weddings a possibility

Any part or combination of parts of the above
Qualifications
Salary/Benefits: Negotiable
Organ: 1993 Randall Dyer
Contact Information:
Deacon Edward Schaefer
Phone: 412-913-2985
Email: edwardschaefer@edwardschaefer.net