---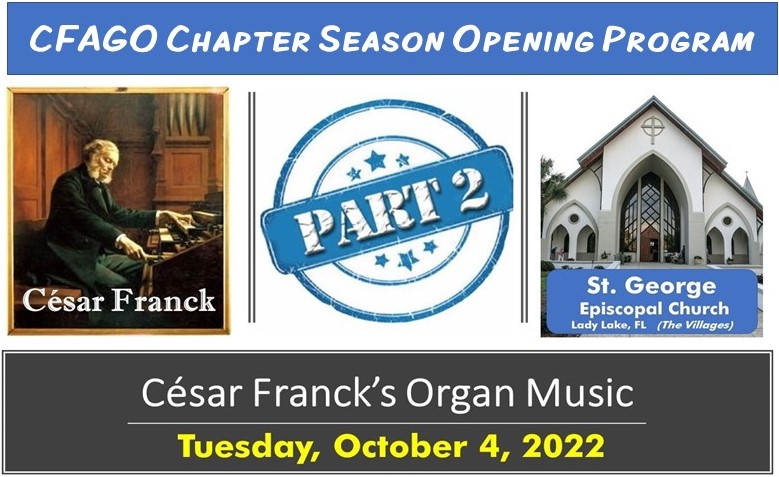 St. George Episcopal Church
1250 Paige Place, Lady Lake, FL 32159 (The Villages)
5:30 pm – Cocktail Social (wine & treats)
at the St. George Episcopal Church Fellowship Hall
6:00 pm – Catered Dinner Buffet Banquet (Cost $10 for CFAGO Members & $18 for Dinner Guests)
at the St. George Episcopal Church Fellowship Hall

Dinner Cost is $10 per CFAGO Member & $18 for Dinner Guests. Please bring your checks with you, made payable to CFAGO.
Menu is Apple-stuffed Pork Tenderloin, Roasted Red-Skin Potatoes, Green Bean Almondine, salad, rolls, and a Sheet-Cake for dessert, with Iced Tea and Lemonade.
7:00 pm – CFAGO César Franck "Part 2" Member's Recital
St. George Episcopal Church
This year 2022 marks the 200th anniversary of the birth of César Franck, one of the greatest composers of music for the organ. The CFAGO will commemorate Franck's birth by presenting a second Members' Recital of all of Cesar Franck's major works for organ "Part 2". Good news, we have the program music and performers already in place.